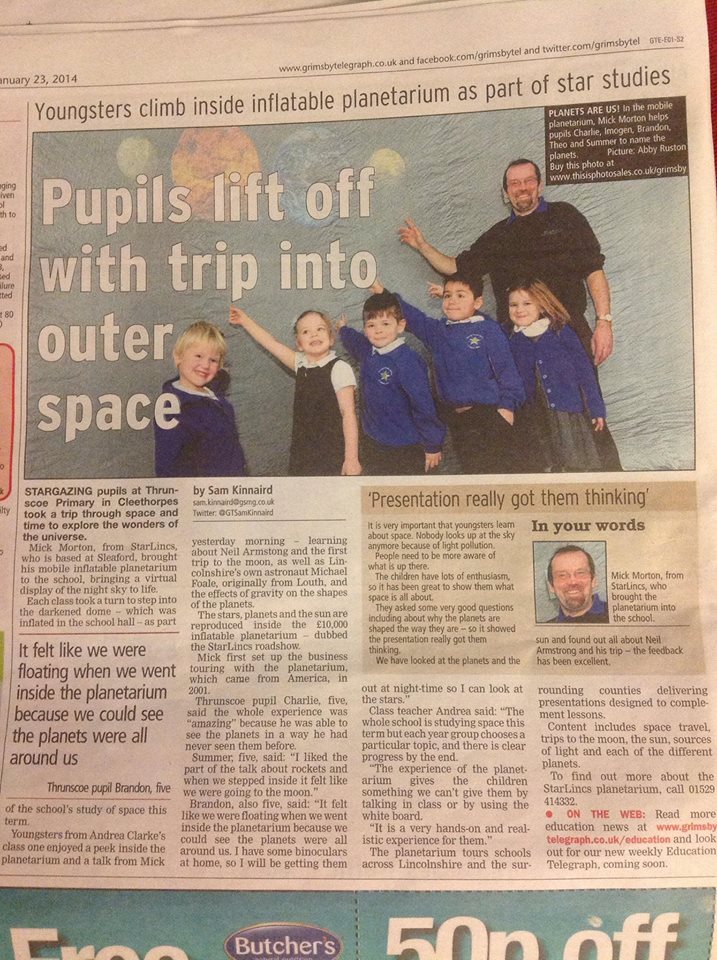 We have nearly two decades of fantastic feedback from the schools, clubs and public establishments we have visited.
Testimonials
The Year 1 and Year 2 children have had an amazing time in the planetarium
Just to say a big thank you for coming to see us today. All of the feedback I received was very positive, and it will have reinforced all of the things we have been doing. I'll have to get my act together a bit better about booking next time, since you're so popular
A note to say thank you so much giving the Year 1's such a valuable experience in the Planetarium. They were very excited by it and seem to have remembered a lot of what you told them. Thank you for relating to this age group so well and coping admirably with the unexpected fire drill.
To support this term's topic of 'Space' we had StarLincs Mobile Planetarium visit the school. The Year 2 children learnt about Space Travel, Light and Dark and the Planets. The presentation ended with a magnificent tour of the beautiful night time sky.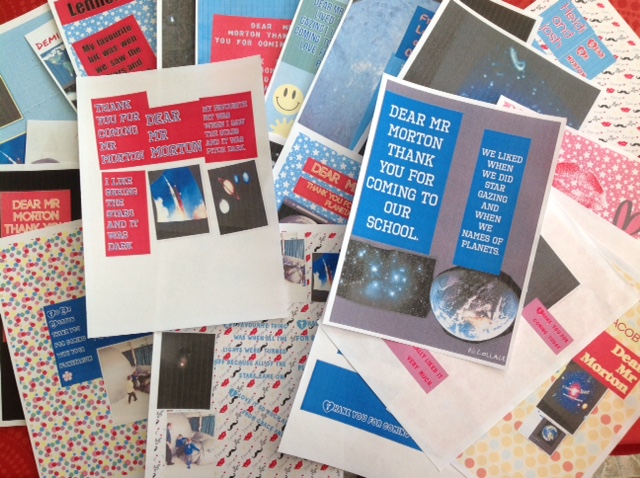 I would like to take the time to express our thanks for 4 excellent presentations on Monday. The children thoroughly enjoyed them and were very enthusiastic about the experience. It made a wonderful 'plenary' to our topic of space. Thank you very much.
Thank You, Thank You, Thank You for helping to make Saturday so FAB! We really appreciate all your hard work and creativity and hope that you enjoyed working with us. As you know the weather brought its fair share of challenges but this did not faze you - you brought a calm, flexible and professional approach to the day to help make your workshop run so smoothly.
Thank you for the fantastic visit on Monday, we all thoroughly enjoyed it.
I would just like to say thank you on behalf of the children and staff in Year 4 for the visit to our school yesterday. We had an amazing time in the planetarium and the presentation was excellent. I will be in touch regarding future bookings.
Thank you so much for today. We really did enjoy the planetarium. It was a super start to our space topic.... the children really enjoyed it. Mr Morton, you have a lovely calm way with the children with high expectations for listening and behaviour. I like the way you lowered the lights slowly and prepared the children for everything. We learned lots of new facts about planets, space and the stars.... Just magic. We'll be putting some photos on our school website next week if you'd like to look.....Thanks again
On Friday, Key Stage One had a great time celebrating their space topic by dressing up as astronauts, aliens and stars! There was a fantastic visit from StarLincs planetarium and everyone enjoyed star gazing in the dark. They took part in space themed activities throughout the day and rounded it off with some super singing of space songs by the singing club.
I just wanted to say thank you very much for your visit to us on Friday. The children loved the experience and gained lots from it. I had really good reports from each class. Thank you very much for coming and I hope that you will visit us again. Thank you.
Hello, Can I say a great big thank you to Mick who spent 2 busy days with us this week. We have all thoroughly enjoyed the planetarium and it has been a great learning opportunity for our children.I didn't get chance to thank him before he left as I was busy in my class
A mobile planetarium became a new classroom for youngsters at our school on Wednesday. They were able to step inside the planetarium to view images of stars and constellations which were projected across the inside of the dome-like structure. Class teacher for Year 1, Kirstie said: "The pupils are studying space and wanted to find out more about the different planets and constellations. The images were rotated to simulate the movement of the stars during the night. Afterwards they followed up with writing and it was amazing how much their vocabulary had increased and they were using technical words they had learned on the day." The planetarium was brought by Mick Morton, of Lincolnshire-based StarLincs.
I am emailing to say a huge thank you for your visit yesterday. The children from both classes enjoyed themselves so much and it was the main topic of conversation all day! The presentation was fascinating and pitched exactly right for the age group. The children got a lot from it and were proud they could show off their knowledge too. The inflatable dome is a brilliant idea and I'm so pleased we asked you to visit our school again. We hope to see you in the future.
A mobile planetarium visited as part of the Infinity and Beyond science curriculum for Years 5 and6. The children really enjoyed the experience and teacher Katherine thought it was "mind boggling". One pupil said that the most amazing thing he had learnt was that there were more stars in the sky than grains of sand on Earth.